Various Writings on Chinese Music by Dennis Rea
---
Although jazz has been slow to take root in China, by the late 1990s a significant number of Chinese musicians had adopted the genre, an international jazz festival had been established in Beijing, and numerous jazz clubs were thriving in China, Taiwan, and Hong Kong.
Appropriately, China's first encounter with jazz came during Shanghai's "Jazz Age" of the 1920s and 30s, when visiting jazz stars such as trumpeter Buck Clayton performed for largely expatriate audiences in the city's foreign concessions. Local musicians soon embraced the imported genre, most famously the Peace Hotel Jazz Band that played in the hotel's opulent ballroom. Filtered through jazz-influenced musicians such as Jin Huaizu ("Jimmy King") and the prolific composer Li Jinhui, echoes of jazz were audible in much of the popular and film music of the day.
Stigmatized as purveyors of a decadent foreign art form, Shanghai's jazz musicians were silenced by an insular Communist regime after the 1949 revolution. Jazz remained virtually nonexistent in China until its revival during the cultural thaw of the post-Mao era, when the now elderly Peace Hotel Jazz Band resumed playing to packed houses in the expensively refurbished hotel ballroom.
Jazz gained a small but enthusiastic following in the 1980s and 90s, fueled by increasing availability of jazz recordings from abroad and public exposure to expatriate and touring jazz musicians. Perhaps the first noteworthy jazz statement from a new generation of Chinese musicians was pianist Gao Ping's 1988 recording Jazz in China; though only marginally "jazz" by most standards, this early effort was nevertheless significant for its emphasis on improvisation. 
In 1993 German expatriate Udo Hoffmann staged the inaugural Beijing International Jazz Festival. Though not the first event of its kind in the Chinese cultural area—a distinction held by the Macau Jazz Festival, now more than 20 years old—the Beijing International Jazz Festival has grown into a major annual event featuring leading international performers. The festival has provided a showcase for Chinese jazz musicians and opportunities to study and play informally with visiting artists, and has inspired similar events in other Chinese cities. Concurrently, jazz clubs have opened in Chinese cities from Beijing to Chengdu. 
The most influential modern Chinese jazz musician is Liu Yuan, a virtuoso saxophonist who first came to prominence as a member of Chinese rock icon Cui Jian's band. A vigorous and assured improviser in a conservative bebop vein, Liu Yuan appears regularly at festivals and smaller venues and has performed alongside such visiting jazz luminaries as Wynton Marsalis. Other notable Chinese jazz musicians at the turn of the millennium include pianist Liang Heping, saxophonist Jin Hao, and Hong Kong–based guitarist Eugene Pao.
Worldwide, Chinese musicians such as Wu Man, Min Xiao-fen, Liu Sola, and Wang Yong are actively exploring cross-cultural improvised music. In the jazz motherland of the United States, critically acclaimed Chinese-American jazz musicians including Fred Ho, Jason Hwang, Jon Jang, and Francis Wong are pioneering the integration of Chinese instruments and musical concepts into the open structures of jazz.
---
Although overshadowed by Tan Dun, Zhou Long, and other of his peers among China's xinchao ("New Tide") musical avant-garde, composer Cong Su holds the unusual distinction of having won an Oscar, a Grammy, a Golden Globe, and other international awards for his contribution to the soundtrack of Bernardo Bertolucci's 1987 epic The Last Emperor.
Cong Su studied composition in Beijing and in Germany, where he attended the München Music High School and the Ludwigsburg Film Academy. Throughout his career he has pursued an interest in multimedia, composing music for ballet, film, opera, and "media opera" in addition to chamber and symphonic pieces. His affinity for cinema led to the inclusion of his folk-influenced work "Paper Emperor" in the original score for The Last Emperor. His subsequent international awards were widely celebrated in China but are deceptive, as he contributed less than two minutes of music to a soundtrack that was largely written by Japanese composer Ryuichi Sakamoto and U.S. rock musician David Byrne.
He remains active as a composer of works incorporating everything from full orchestra to drums and electric guitar, and continues to compose music for cinema, notably the soundtrack to Beijing filmmaker Ning Ying's 1995 film On the Beat (Minjing Gushi). He works frequently in Germany, where he has held the post of professor of composition at the Film Academy in Baden-Württemberg. Among his major compositions are the ballet "Distance to Eternity," the opera "The Franklin Expedition," and the multimedia chamber opera "When the Sun Is Rising."
---
He Xuntian's improbable career has seen him develop from a marginal member of China's xinchao ("New Tide") musical avant-garde into one of the country's most commercially successful composers of popular music. 
Initially self-taught, He graduated from Sichuan Conservatory of Music, where he developed his own "RD" (renyilu dutyingfa) compositional method. He has won numerous awards both in China and abroad, including First Prize at the 1984 All-China Music Competition. Among his notable early works was "Sounds of Nature" for traditional Chinese instruments, which employs extended techniques to evoke the sounds of the natural world. Other significant compositions include the symphonies "Four Dreams" and "Telepathy," the chamber works "Imagine the Sound" and "Phonism" and an orchestral piece based on folk materials, the "Daba River Capriccio."
After joining the faculty of Shanghai Conservatory of Music in 1992, He began a musical partnership with the singer Zhu Zheqin under the name of Dadawa. Their collaboration resulted in the massively successful CD Sister Drum, a New Age fantasy on Tibetan spiritualism and folk music that became the best-selling recording in Chinese history and garnered considerable attention in the West. A heavily stylized blend of ersatz Tibetan vocalisms and lush electronics, Sister Drum drew heavy criticism from Tibetans who felt it was a patronizing exercise in cultural exoticism that conveniently ignored China's controversial occupation of Tibet. 
In 2000, He began work on the score of filmmaker Zhang Yimou's major stage production of the opera "Liu San Jie" ("Third Sister Liu"). 
---
Throughout the 1980s, rock musician, political activist, and all-around cause celèbre Hou Dejian was the embodiment of China's post-1949 split personality. The Taiwan-born singer-songwriter emerged from the island's so-called "coffeehouse folk" movement, which flowered under the relatively benign regime of Chiang Ching-Kuo in the 1970s. He was soon catapulted onto a larger stage with the release of his huge 1979 hit, "Descendants of the Dragon," a ringing statement of pan-Chinese nationalism that made Hou a lightning rod for the contentious issue of Chinese reunification.
In the ancient East there is a dragon;
In the ancient East there lives a people,
The dragon's heirs every one.
Under the claws of this mighty dragon I grew up
And its descendant I have become.
Once and forever, a descendant of the dragon.
—"Descendants of the Dragon" 
Hou created headlines and reversed a trend when he defected to the mainland in 1983 to reassert his Chinese roots. Welcomed at first by the PRC government, who viewed him as a useful propaganda tool, Hou became a popular performer and important influence on the nascent Chinese rock music scene. He eventually grew disenchanted with Communist rule and in 1989 acted as a highly visible spokesperson for pro-democracy demonstrators in Tiananmen Square. The following year PRC authorities forcibly repatriated him to Taiwan, where he was arrested and briefly detained.
Hou remains active in music and has composed soundtracks to films ranging from Hong Kong martial arts thrillers to the dark 1993 Taiwanese drama Yueguang Shaonian ("Moonlight Boy").
---
One of a handful of experimental musicians to emerge in musically conservative Hong Kong in the 1980s, the cryptically named Xper.Xr gained a measure of notoriety as arguably the first Chinese "industrial noise" musician. His confrontational, electronically generated sound works, described by one reviewer as "techno-disco-karaoke-noise," are characterized by harsh timbres, extremes of volume and dynamics, and satirical deconstructions of familiar pop music. Although his work is known only to a small specialist audience, it nevertheless marks a significant departure from Chinese musical precedent in its disregard for established musical forms and preoccupation with themes of alienation and sexuality.

Xper.Xr made his self-financed debut recording, Murmur, in 1989, and went on to give infrequent performances at Hong Kong arts festivals and galleries. In 1992 he released his first full-length CD, Voluptuous Musick, on the city's adventurous but short-lived Sound Factory label. During this period he also published the Hong Kong experimental arts magazine Cacophon.

Disappointed with hostile public response to his sound experiments in Hong Kong, in the early 1990s Xper.Xr moved to the more musically receptive environment of London, where he continues to test the boundaries between noise and music as both a solo artist and collaborator with a wide range of international avant-garde musicians. In 1997 he formed his own Vaseline label and released the more conventionally structured Lun Hsiao Shuai. Subsequent recordings have included Golden Wonder, Look Left/Right, Because I'm Worth It, and contributions to numerous international compilations.
 
---
by Andrew F. Jones, Cornell East Asia Series, 1992
Review by Dennis Rea originally published in the Tentacle journal of Northwest creative music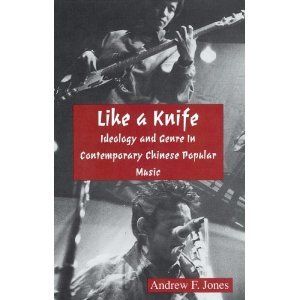 "Chinese popular music is less a mere adjunct to leisure than a battlefield on which ideological struggle is waged."

In Like a Knife, China scholar and [then] University of Washington faculty member Andrew Jones presents an absorbing sociopolitical analysis of Chinese popular music between the late 1970s and early 1990s, a period of unprecedented musical ferment in post-revolutionary China. Although China's musical landscape has changed radically since the book's publication in 1992, Jones's examination of the dichotomy between state-sponsored and underground spheres of contemporary music still makes for engrossing reading, and remains the only serious book-length study of a watershed era in Chinese musical history [that is, until my own Live at the Forbidden City was published in 2006—DR].

As a musical collaborator of many of the principal figures in the book, and as author of a forthcoming account of my own experiences playing in China during the same period described by Jones, I read Like a Knife with more than passing interest. Jones's insights enabled me to draw connections that had eluded me as a subjective participant, giving me a new appreciation of the complex forces at play in contemporary Chinese culture.

Jones's underlying thesis is that in the modern Chinese musical milieu, "genre is a function of ideology, not musical style." He argues that contemporary Chinese popular music can be divided into two basic genres: the entrenched, state-controlled tongsu, or 'mass' music, and the more recent oppositional subculture of urban Chinese rock. 

For decades after the 1949 communist revolution, music's sole purpose in China was as a transmitter of political and moral propaganda. The only forms of music sanctioned by the Chinese Communist Party were ideologically correct socialist anthems, Madame Mao's revolutionary operas, and songs extolling the praises of the Motherland. Even China's rich classical and folk music traditions came under fire as representative of feudalist 'old thinking.' (Western music, of course, was virtually outlawed as an ideological contaminant.) Individual identity was subsumed in the long march toward a utopian Chinese socialist society, leaving little room for expression of personal feelings in the arts. Not surprisingly, most of the music produced during this era was dull as day-old bread.

Only after the reform-minded Deng Xiaoping opened the nation's doors to outside influence in the late 1970s did Chinese music begin to wriggle out of its ideological straitjacket. Government control over artistic expression relaxed, within limits, and creative impulses that had been stifled during China's disastrous Great Proletarian Cultural Revolution were once again allowed to bloom, finding vent in confessional "wound literature," the cinema of the so-called Fifth Generation filmmakers, and a resurgence of Western-influenced popular music. 'Bourgeois' musical values — as opposed to revolutionary paeans to Chairman Mao and songs praising model workers and soldiers like the mythical Lei Feng — crept back into the mainstream in the late 1970s in the form of glossy, saccharine love songs imported from Taiwan and Hong Kong, most notably the chart-topping hits of Taiwanese songstress Deng Lijun. These songs had an impact on the Chinese public out of all proportion to their surface banality, as Jones makes clear with a quote from the well-known mainland songwriter Jia Din:
 
"The first time I heard Deng Lijun's songs was in 1978. I just stood there listening for a whole afternoon. I never knew before that the world had such good music. I felt such pain. I cried. I was really very excited and touched, and suddenly realized that my work in the past had no emotional force."

Before long singers in the mold of Deng Lijun were all the rage in China, flooding the airwaves and appearing in huge arenas backed by anonymous musicians from state song and dance troupes. But the singers' glamorous public image belied a life of virtual servitude to Party apparatchiks who controlled every last detail of their repertoire, lyrics, and performance style. Though ideological constraints on subject matter were relaxed to accommodate softcore love songs, mild social criticism, and even lighthearted parodies of Cultural Revolution–era anthems, tongsu music remained essentially true to its prescribed function as music for 'the people.'
But just who were the people, anyway? Not the musicians, certainly. Jones cites an amusing passage from "A Superfluous Story" by
author/composer/rock singer Liu Sola, in which she describes a fictional discussion between a tongsu singer and a government censor over the words to one of her songs:
"'Kissing,' 'losing sleep'—these lyrics don't describe contemporary youth... Then there's the end of the song. It should be the people, not 'ourselves.'"
"Aren't we the people? Aren't the people us?"
"No, the people are the people, the people are the People. They're not me, and not you, they're not anyone, they're the people."

In the words of singer Jing Gangshan, the difference between tongsu and the rock music that emerged in China in the 1980s is simply that "Rock musicians sing songs that don't have government approval. Tongsu singers do." Perhaps more significantly, rock musicians write and perform their own songs, while tongsu singers have no choice but to perform music that is written or filtered by government ideologues. As Jones puts it, "Tongsu singers are divested of control over their songs, their voices, even their bodies. ... what places rock in opposition to tongsu music, indeed what makes rock 'rock,' is its self-conscious reclamation of a subjective voice."
For many Chinese, the embodiment of that voice was Cui Jian. In post-reform China, Cui Jian was John Lennon, Bob Dylan, and Kurt Cobain all rolled into one, a one-man rock-and-roll revolution whose rough-edged songs of alienation spoke volumes to a generation searching for identity amidst the precariously shifting realities of late twentieth-century China. Cui Jian's music represented the first complete break with the thinly veiled socialist musical orthodoxy of tongsu. While tongsu music functioned for the most part as an opiate for the masses, Cui Jian dared to sing about such verboten topics as individualism, sexuality, and, by inference, the integrity of the Communist Party. To a generation numbed by deadening propaganda, the honesty of Cui Jian's lyrics was like a clarion call. His figure necessarily looms large in Like a Knife, which takes its title from one of Cui Jian's lyrics ("The
guitar in my hands is like a knife... I want to cut at your hypocrisy until I see some truth").

Cui Jian's early career reads like a good paranoid conspiracy thriller, as the authorities constantly harass him at every turn. It didn't help that his most affecting song, "Yiwu Suoyou" ("Nothing to My Name"), was adopted as the unofficial anthem of the protesters encamped at Tiananmen Square in 1989. But the sensibility embodied by Cui Jian was a spark that could not be extinguished, and other musical rebels soon followed in his wake. Even more extreme in this context was He Yong, China's first self-professed "punk," whose "Garbage Dump" was a strong antidote to the Propaganda Lite dished out by the Chinese Communist Party censors who controlled tongsu music:
The place where we live is like a garbage dump
The people are like insects
Everyone's struggling and stealing
We eat our consciences and shit ideology

While tongsu music was performed in government-controlled theaters and sports arenas and on widely broadcast TV variety shows, the furtive rock underground operated on the margins of society, hounded by the authorities into the relative safety of basements and private "parties" hosted by the foreign diplomatic community. For many young Beijingers, these parties were the Chinese equivalent of San Francisco's Summer of Love or the punk explosion of the late 1970s in New York and London:
"For some fans, a rock party may just be a chance to let loose, to scream and shout in relative safety and anonymity. For others, including the majority of rock musicians themselves, participation is seen as one manifestation of the individualism and anti-feudalism upon which the whole subculture is founded."

Sadly, the era covered by Jones in Like a Knife was a fleeting golden age of idealism that was soon hopelessly corrupted by narcissism and the pressures of the marketplace. In a cruel twist of irony, the Chinese rock revolution was brought down not by gun-toting Public Security agents but by the virus of corporate rock culture. Predatory foreign record companies arrived on the scene, eager to cash in on China's booming youth culture market; most musicians were only too happy to sign on the dotted line, in keeping with the nation's newfound obsession with me-first mercantilism. Rock music emerged from its underground of secret parties onto the stages of slick new commercial venues like Beijing's Hard Rock Cafe. Perhaps most significantly, MTV and its pantheon of questionable role models invaded China via satellite TV, forever changing the face of Chinese rock. 

Gone were the amateurish but refreshingly sincere garage bands of China's first rock generation, supplanted by self-consciously polished performers embodying the MTV aesthetic of style over substance. Even the "Peking Punks" movement of the late 1990s, ostensibly a reaction against the gutless commercialism of much Chinese rock, succeeded only in substituting self-destructive nihilism in place of the idealistic humanism of Cui Jian and his kindred spirits.
Viewed from 1999, China's rock and roll revolution was largely a failure. Yet for a few heady years the music of Cui Jian and others was a tremendously liberating force for Chinese youth, a vital outlet for long-suppressed dreams, longings, and fears. Jones succeeds admirably in capturing a pivotal moment in China's musical evolution that, despite its failings, should provide inspiration for creative musicians anywhere who believe in music's power as an agent of social change.