LAND
From 1993–2000, Jeff Greinke's collaborative project LAND included such imaginative and accomplished instrumentalists as Greinke (keyboards, voice, composer), Fred Chalenor (bass, stick), Lesli Dalaba (trumpet), Greg Gilmore (percussion), Bill Moyer (percussion), Ed Pias (percussion), Dennis Rea (guitar), Bill Rieflin (drums), and George Soler (stick). The various incarnations of the group skillfully interwove electronic music, jazz, progressive rock, and world music influences to create an absorbing blend of composition and improvisation that was both strikingly modern and imbued with primordial mystery. LAND earned critical acclaim for its live performances (including a 1996 tour of China, Hong Kong, and Macau) and its three CDs on the Extreme, Periplum, and First World labels.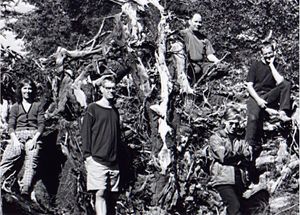 LAND, San Juan Island ca. 2000
L-R: Lesli Dalaba, Fred Chalenor, Dennis Rea,
Bill Rieflin, Jeff Greinke
"LAND breaks barriers on the obstacle course of East-meets-West fusion... exotic and liquid quicksilver improvisation... a revisioning of Fourth World shibboleths upon which found sounds are cleverly flourished."—The Wire (UK)

"Exotic, trans-global soundscapes... sounds like Spike Jones meets John Cage at a rave party."—John Diliberto, LAND feature on the nationally syndicated radio program "Echoes"
0:00/5:35

0:00/4:33

0:00/9:10