Promotional Materials for MoonJune Records, written by Dennis Rea
Beppe Crovella
Soft Machine Legacy
Boris Savoldelli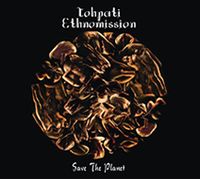 TOHPATI ETHNOMISSION: Save The Planet (MJR 035)

To most global listeners, the words 'Indonesian music' bring to mind the intricate metallic rhythms of that nation's venerable gamelan orchestral tradition, or the sinuous strains of female singers like Idjah Hadidjah who perform songs in the kliningan, celempungan, and jaipongan idioms. Ever since Claude Debussy famously became enchanted with Javanese gamelan music at the 1889 Paris Universal Exposition, Indonesian music has become synonymous in Western minds with an idealized and exotic East, a place of lush, timeless landscapes and sensuously swaying dancers.

But Indonesia has not remained frozen in time, and in this age of instant communication and rapidly collapsing cultural boundaries, Indonesian musicians have come to embrace the full spectrum of global musical offerings, at the same time enriching these adopted musical streams with their own unique sensibilities and suggesting new ways forward. A case in point is Indonesia's surprisingly fertile jazz-rock fusion scene, whose prime movers include the remarkable MoonJune Records recording artists simakDIALOG, who update the electric keyboard–driven post-Miles continuum in strikingly original ways, in particular by substituting a traditional Indonesian percussion section for the customary trap set.

With his new MoonJune release Save the Planet, simakDIALOG's gifted guitarist Tohpati—in other contexts, one of the best-known and most highly regarded guitar players in all Indonesia—ventures out on his own with his crackshot unit Ethnomission. Bolstered by the highly simpatico team of bass guitarist Indro Hardjodikoro, percussionists Demas Narawangsa (just 16 years old at the time of this session) and Endang Ramdan (also of simakDIALOG), and suling (Indonesian wooden flute) player Diki Suwarjiki, and augmented by vocalist Lestari on the track "Bedhaya Ketawang," Ethnomission serves up an exhilarating and wholly original program of instrumental compositions that set a new high-water mark for Indonesian fusion.

Make no mistake—this isn't your ibu's (mother's) Indonesian music. As a guitarist, Tohpati references such impeccable influences as Terje Rypdal (the opening "Selamatkan Bumi"), John McLaughlin (the Mahavishnu-inflected arpeggios and ripping Lifetime-esque single-note bursts of "Bedhaya Ketawang"), and Robert Fripp ("Drama," reminiscent of King Crimson's classic carpal-tunnel recipe "Fracture"). Yet Tohpati is every bit his own axeman, equally at ease unspooling fleet-fingered chromatic runs ("Inspirasi Baru"), pointillist intervallic leaps ("Gegunungan"), pastoral melodies ("Hutan Hujan," with its sunny flute lines suggestive of Irish traditional music), buoyant fusion ("Biarkan Burung Bernyanyi"), sinister metal crunch ("Amarah"), country twang ("Perang Tanding"), and enigmatic, freely improvised soundscapes ("Pesta Rakyat"). Possessed of a soulful, meaty tone suggestive of John Scofield, Tohpati spices up the proceedings through sparing and tasteful use of pitch shifter, ring modulator, delay, and MIDI guitar synthesizer, all the while retaining an emotive, organic quality. Bassist Indro Hardjodikoro proves every bit as dexterous as Tohpati in his solo on "Biarkan Burung Bernyanyi," while the percussion tandem dazzles on "New Inspiration." Highlights of Save the Planet include "Ethno Funk" and "Perang Tanding," the two pieces that most explicitly channel Indonesian traditional music, with its fiendishly intricate stop/start rhythms.

With Save the Planet, Tohpati serves notice that he is a force to be reckoned with on the world musical stage, and demonstrates that jazz-rock fusion is as vital and relevant as ever, with many fascinating musical mergers yet to be explored. Save the Planet is a most welcome remedy for a planet desperately in need of saving.
---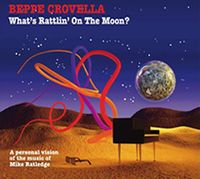 BEPPE CROVELLA: What's Rattlin' On The Moon? - A personal vision of the music of Mike Ratledge (MJR 030)

With his brilliant new MoonJune Records release What's Rattlin' on the Moon, veteran progressive musician and award-winning composer Beppe Crovella (Arti e Mestieri) delivers a heartfelt and long-overdue appreciation of one of the defining voices of the jazz-rock idiom, Soft Machine keyboard player and composer Mike Ratledge.

More than any of his more widely recognized former bandmates, it was Ratledge who was truly the heart and soul of Soft Machine, his instantly identifiable sound and forceful, incandescent soloing providing the thread of continuity throughout most of the band's many incarnations. At a time when many progressive rock keyboardists were surrounding themselves with ever more elaborate arrays of futuristic, often sterile-sounding keyboard instruments, Ratledge managed to produce music of arguably greater depth and vitality armed primarily with an inexpensive modified Lowrey organ and a Fender Rhodes electric piano. Not for Ratledge the precious neoclassicism and faux orchestral flavorings of the progressive genre—his signature overdriven organ gave even guitarists like Softs touring partner Jimi Hendrix a run for their money and flattened many an unsuspecting concertgoer. The rawness and intensity of his Coltrane-inspired sheets of sound imbued Soft Machine's music with a sense of risk and immediacy that tilted the band into the realm of up-to-the-minute jazz, yet he could just as easily conjure more bucolic moods with his ruminative playing on the electric piano. Ratledge also contributed a number of the group's most enduring compositions in "Slightly All the Time," "Out-Bloody-Rageous," "Esther's Nose Job," and "Chloë and the Pirates". Sadly for many Soft Machine enthusiasts, Ratledge has been little seen since he left the band in 1976 — all the more reason to celebrate the release of What's Rattlin' on the Moon, on which Crovella breathes new life into a choice selection of classic Ratledge compositions while adding a number of exemplary Softs-inspired tunes of his own.

No mere nostalgic re-creation of the Soft Machine oeuvre, What's Rattlin' presents a fresh and bracing take on Ratledge's singular music through novel arrangements and the use of vintage keyboards not normally associated with the Softs, such as (intriguingly) the Mellotron. Perhaps the most radical break with the past here is the absence of a rhythm section or other melody instruments competing for attention; by placing Ratledge's music fully in the foreground, Crovella cannily illumines key facets of his subject's musical personality. The undulating ostinati that underlie Crovella's arrangement of "Chloë and the Pirates" reveal links to early Ratledge influence Terry Riley, while Crovella's version of "As If", with its flurries of spiraling, chromatic lines, underscores Ratledge's affinity for 'free jazz' contemporaries like Cecil Taylor. In some cases ("Chloë and the Pirates," "Pig") the arrangements hew fairly closely to the recorded originals; in others ("Hibou, Anemone and Bear," "Out-Bloody-Rageous") the source material is creatively morphed almost beyond recognition, yet still bears the inimitable stamp of its author. Crovella's choice of vintage keyboards — no synthesizers or digital keyboards of any kind are used on this recording — is particularly inspired, their organic tones aptly evoking the raspy timbres of Ratledge's fuzzed-out organ and piano. Crovella's deep empathy with the Ratledge sound ethos is also evident in the six original compositions with which he augments the program. What's Rattlin' is not only a supremely fitting homage to one of the giants of jazz-rock, but in the spirit of its subject, moves the music forward in bold and imaginative ways. It is that rarest of 'tribute' albums, one that captures the unique musical gifts of both its dedicatee and creator.
---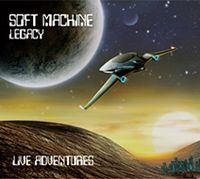 SOFT MACHINE LEGACY: Live Adventures (MJR 036)

The beauty of Soft Machine's legacy—and of Soft Machine Legacy the band—is that nearly a half-century after the original group's inception, that legacy is far from stagnant but continues to evolve to this day. Ever since Soft Machine Legacy was first formed (as Soft Works) in 2001 at the instigation of MoonJune Records head honcho Leonardo Pavkovic, the group has amply demonstrated that it is no mere exercise in nostalgia, lazily mining the Soft Machine back catalog; instead, SML has admirably carried the parent group's spirit of inquiry and exceptional standard of musical excellence forward into the present.

Just as the original Soft Machine was in a state of continual metamorphosis in terms of both personnel and musical approach—shape-shifting over time from a psychedelic pop band to a proto–prog rock outfit to pioneers of adventurous jazz-rock fusion, and ranging from trio to septet configurations—SML has been in constant flux as members have come and gone, each new arrival placing his distinctive stamp on this musical work in progress. It is a tribute to the open-ended nature of Soft Machine's ingenious compositional frameworks that they can accommodate such a wide range of strong musical personalities.

With the untimely passing in June 2009 of the brilliant and widely mourned bassist/composer Hugh Hopper, SML lost its last link to the formative 1960s incarnations of Soft Machine. Happily—and in a fitting case of déjà vu—his place has been taken by the only other bassist capable of filling the role, Roy Babbington, who after having made cameo appearances on Soft Machine's 4 and 5 went on to replace Hopper as the group's regular bassist from 1973-76, notably on the unfairly overlooked Seven. A prodigious player and improviser whose impressive curriculum vitae includes stints with such groundbreaking units as Nucleus, the Keith Tippett Group, Ovary Lodge, and Delivery, Babbington injects fresh energy and musical intelligence into a lineup that already boasts such formidable instrumentalists as drum statesman John Marshall, guitar sorcerer John Etheridge, and woodwind player extraordinaire Theo Travis, who, while the only SML member that is not a Soft Machine alumnus, clearly has fully internalized the SM ethos.

On their rousing new live disc for MoonJune, SML covers more vintage Soft Machine repertoire than on previous releases, yet reinvigorates the tunes by means of fresh arrangements and expansive, protean improvisation. Soft Machine partisans will rejoice at the inclusion of such repertory gems as "Gesolreut," in which the band lays bare the funky heart of its signature elliptical ostinato with steaming soli and propulsive grooves; "As If," an oblique rereading of the Mike Ratledge piece marked by spectral guitar shadings and Travis's shakuhachi-like flute etchings; and the stirring, elegiac "Song of Aeolus." And fittingly, the band pays heartfelt tribute to the dearly departed Hugh Hopper with a rendition of his iconic "Facelift," artfully investigating the intricate twists and turns of its singular long-form melody. This is no potted history of Soft Machine, but a living, breathing music.

With Live Adventures, Soft Machine Legacy makes a forceful case that the music of Soft Machine is as relevant and ripe with possibility today as it was in the band's heyday. Longtime fans and new converts alike can take heart in the knowledge that the Soft Machine family tree, with its deep roots in the musical revolution of the '60s, continues to sprout new limbs in the new century and shows no signs of slowing. The legacy is in very good hands indeed.
---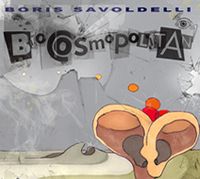 BORIS SAVOLDELLI: Biocosmopolitan (MJR 037)

Boris Savoldelli's new MoonJune Records release Biocosmopolitan is nothing short of a tour de force of vocal artistry. Listeners who are only familiar with the singer's previous MoonJune CD – the edgy, shape-shifting Protoplasmic duets with legendary guitar innovator Elliott Sharp – will be little prepared for the euphonious aural feast that awaits them on Biocosmopolitan, which represents a new pinnacle for this unique and wholly engaging vocal performer.

Biocosmopolitan would be a remarkable album even if it were performed by a large ensemble of singers and instrumentalists, but the fact that these intricately layered songs were performed in real time by a single vocalist – apart from the brilliant contributions of rising trumpet star Paolo Fresu on two tracks, fusion bass acrobat Jimmy Haslip on another, Savoldelli's own piano accompaniment on "Biocosmo," and subtle use of sound-effects recordings – is difficult to believe. Using only a microphone and a compact, customized setup of looping and sound-processing devices, Savoldelli constructs exquisitely crafted, self-contained sound-worlds replete with elaborate multipart harmonies, complex interlocking rhythms, and a panoply of globe-spanning musical influences old and new, ranging from vintage jazz crooning and calypso to Renaissance polyphony, R&B, South African mbaqanga choral music, psychedelic rock, Beat poetry, his native Italian folk heritage, and a sort of mutant doo-wop. Seldom has vocal music been heard that conjures both the Beach Boys and Stockhausen in the same track. What unifies all of these wildly varied influences is Savoldelli's inimitable, outgoing musical personality.

Unlike Protoplasmic, an improvised outing that explored what Boris refers to as his "dark" side, Biocosmopolitan is a much more exuberant and accessible affair, and presents the most complete portrait of Savoldelli as singer, composer, arranger, and sound manipulator to date. Deft use of looping enables the singer to accompany himself with a rich tapestry of choral and 'instrumental' sounds, as in his amazing emulation of longtime hero Jimi Hendrix's strangulated, wah-fried guitar cries on a version of "Crosstown Traffic" like no other. Likewise, all of the sophisticated and entirely convincing drum and percussion sounds on Biocosmopolitan are produced by vocal cords, mouth, and lips alone. While other singers have also emulated instrumental timbres using the human voice, none has taken this approach further or with such inventiveness as Savoldelli has on Biocosmopolitan.

With lyrics in Italian and English by Alessandro Ducoli and a nonverbal vocalese syntax of his own invention, Biocosmopolitan is continually enlivened by Savoldelli's warm-hearted demeanor and infectious sense of humor, belying the worn-out stereotype that 'avant-garde' vocalizing is by definition strident and uninviting. Biocosmopolitan brilliantly demonstrates why Savoldelli has won over audiences throughout Europe, Russia, and North America with his concerts of 'one-man polyphony,' while mapping out new frontiers for the human voice.